Description
Attachment is the way we connect to other people; it influences whether we withdraw or move closer when we feel uncertain or face conflict with our significant others. The connection to our family unit and caregivers may have been secure, stable, and reliable, or complicated by physical absence, emotional unavailability, or trauma. For many, secure attachments don't come easily, and can look like fear of abandonment ("Anxious-Preoccupied" attachment), emotional unavailability ("Avoidant-Dismissive"), and a sometimes confusing mix of the two ("Disorganized-Unresolved"). We each have one main attachment style, but it's common to detour into other styles depending on our circumstances, stress levels, and the attachment styles we encounter in the other people in our lives.
Insecure attachments don't have to doom relationships but they do require ongoing healing and negotiation. Our plant allies are here to soothe our fears, open our hearts, and ground us in the present. They fortify us to restore rightful relationships within ourselves and with the important people in our lives.
I want all your bases to be covered, so this trio of herbal blends tackles all three types of insecure attachment. You can use them all yourself, switching out to suit what life is throwing at you, or you can divide them up between yourself and your significant others depending on their needs.
Emotional states based on attachment run deep. They can cause uncomfortable feelings, confound our loved ones and even ourselves. These blends help us soothe the varying anxieties that arise in relationships.
Set of three 1 ounce bottles.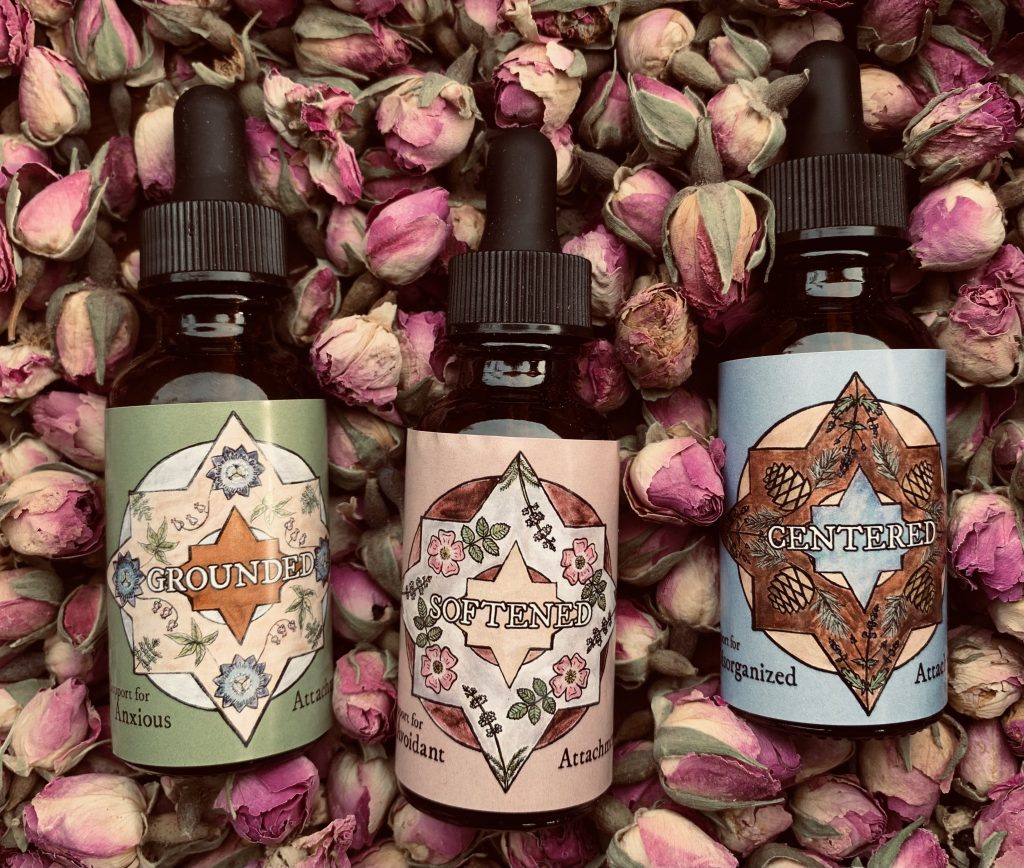 Sliding scale pricing. At checkout, enter coupon code SLIDING20 for 20% off the list price, or SLIDING40 for 40% off.